OboeClarinetGenie
For the Oboe, Clarinet, Oboe d'Amore, Basset Clarinet, and English Horn. each comes with 2 Thumbrest Adapter Rings. Price includes free shipping and handling by USPS Priority Mail for U.S. and by First-Class Package International Service for other countries, for 1 to 50 unit quantities.
Special Notes for Students, Teachers or Instrument Rental Businesses:
For any quantity from 1 to 10, if you are a student, a teacher, or a musical instrument rental business, the price list applies, but with the Special S bonus: each OCGenie you buy will generate $5.00 extra off. Just click the Special S checkbox below for the extra bonus.

Special S:
Click if you are a student, teacher, or musical instrument dealer

Special Notes for International Customers:
Our credit-card processor is set up to accept any major international credit-card types when these cards are charged with 26 types of currency. Chances are your country would use one of those types of currency.
Our prices aim to provide Teachers and Music Stores the best profits from our products.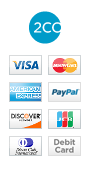 Feel secure ordering from us. Our online transactions are handled by 2checkout.com, and are equipped with fraud protection. All transactions are handled offsite on a secure server.